I have a true respect for the Russell's brand and legacy. Wild turkey is iconic and has a huge range. However, this is the first one of their product's that I ...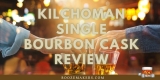 Kilchoman Single Bourbon Cask is released at cask strength with a natural presentation (no chill filtering and no added colorant). While, this might not mean ...
This is an archived app called Brewzor. Info posted below is what first appeared on the Brewzor app site in 2010. Added here for archive. Note, we are not the ...
The freezing point of most alcoholic drinks (hard liquor) is -173.4°F (-114.1°C) There is nothing like a chilled drink after a hard day at work or to ...
The Hobby Distiller's Association was advocating for legalization of hobby distilling in America. As of 2020 it seems the fight has stopped. There were not ...
Browsing All Comments By:

Booze Makers