Check out Whisky and Bourbon From Around The World With a SipScout Subscription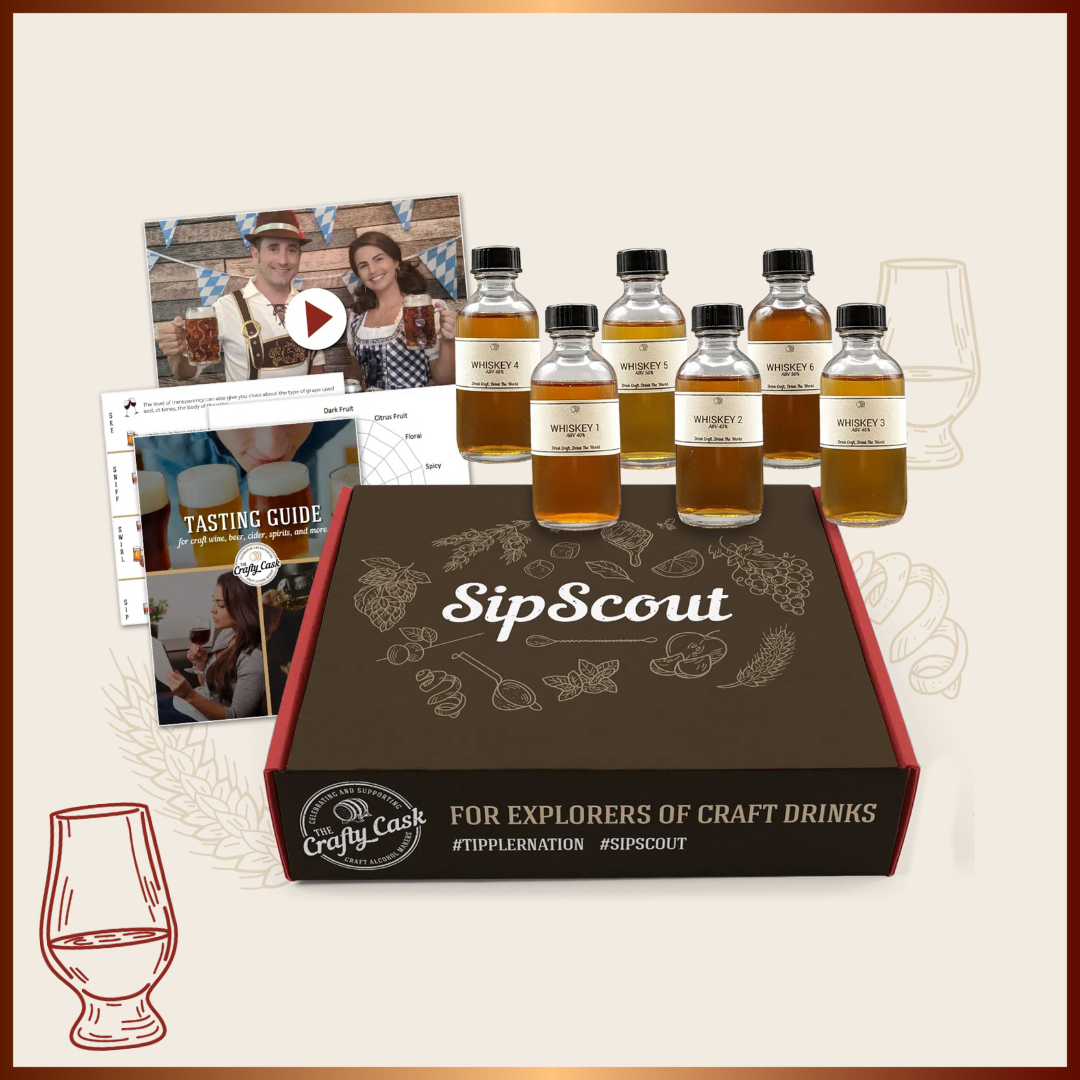 With so many different distilleries and products out there, it can be difficult for an avowed whiskey drinker to take it all in. If you are not up to distilling your own whiskey or just like to explore the craft of fine whiskey then joining a subscription service may be for you. Also, if you find yourself overwhelmed by the sheer number of choices available, a whiskey/bourbon subscription service might be of tremendous value.
What Is A Whiskey Subscription Service?
Whiskey subscription services are essentially membership clubs that give you access to different spirits regularly. Also known as "Whiskey of the Month" clubs, these services send you a bottle or two of your chosen spirits every month or every other month.
While some clubs will deliver exactly what you ask for, others will surprise you with a hand-picked selection based on your preferences.
Whiskey of the Month Club Reviews of 2021
Below we go over some of the best whiskey subscription services available. Apart from the top five that tick all the boxes, we also include a couple of clubs that deserve special mention for their unique attributes.
Flaviar is at the top of our list as far as whiskey clubs go. As excellent as the other clubs are, it wasn't even close.
Flaviar simply beat out all the rest with a straightforward yet high-quality service coupled with an undeniably upscale feel. And while membership is technically available only by invitation, it isn't that hard to get a referral.
Flaviar is like the ideal bartender who always has an interesting, new drink for you to try out. Never pushy, always encouraging, Flaviar subtly offers suggestions on what you should try out next based on your previous choices.
Consequently, you always get something that entices and excites you while still remaining firmly in your wheelhouse.
One of the most intriguing features of Flaviar is "The Vault". This particular selection allows you to grab a hold of rare and exclusive whiskeys.
Keep in mind that the offerings here are sold off quickly, so you will have to be prepared to place an order quickly.
Ultimately, what Flaviar offers is the chance to broaden your horizons and expand on your scope of experience without going too far off familiar territory.
If you have a yearning to explore new flavors but want to keep your favorites close by, Flaviar is the whiskey subscription service for you.
PROS:
You receive three different small-batch spirits, so you aren't stuck with a single whole bottle
Lets you purchase individual full-sized bottles from the website
Has a helpful online community
Gives you personalized recommendations based on your preferences
Lets you cancel or pause your subscription anytime
Free shipping
Cons
No discounts for prepayment
Orders can take a long time
No return policy unless the bottle is damaged
BoozeMakers Rating
Flaviar is the best club that you can find to get monthly spirits sent directly to you.
For sheer variety, Pour More is the one to beat. You get to choose from two or three 'levels' for whiskey, bourbon, and scotch. You could even get additional level options for rum and tequila, plus a bartender package that gives you pretty much everything you need for a home bar.
All the spirits offered at Pour More are of exceptional quality. Each club package gives you a single 750ml bottle every month, with the quality going up with higher-priced subscriptions. With the 'Connoisseur' package, you get a premium-quality bottle.
Along with your hand-picked spirit, you also get details about your particular selection, including whiskey profiles, taste notes, cocktail suggestions, production methods, and a style guide.
Pros
Wide selection of whiskey, bourbon, and scotch
Excellent value
Lets you pause, cancel, and even change your subscription
Discounted rates for prepayment
Unopened bottles can be returned within 30 days
Cons
Only one full-sized bottle monthly
Doesn't have an online store for picking and choosing individual bottles
Shipping fee is pretty high
Awesome
Place here Description for your reviewbox
Mash & Grape is more than just about whiskey, as you may have guessed from the name. The company gets its products from independent bottlers, all of which can measure up to the world's best distillers. As a result, Mash & Grape can offer some truly exceptional spirits, all of which are available via six clubs.
Unfortunately, you don't have the option to customize your orders. However, you can rest assured that each 750ml bottle you receive every month is carefully curated for excellence and quality. Mash & Grape also encourages customers to check out their online store, which gives you a good range of options to choose from.
Pros
Six subscription clubs for different types of spirits (whiskey, scotch, bourbon, gin, rum, and tequila)
Competitive prices
More shipping destinations than other clubs
Option to purchase full-sized bottles from the website
Lets you pause or cancel your subscription
Free shipping
Cons
Only one full-sized bottle per month available
No discounts for prepayments
No returns unless the bottle is damaged
Awesome
Place here Description for your reviewbox
Caskers is all about the whiskey, and you can tell that the company takes its role seriously. Membership is available for two clubs: the American Whiskey Club and The World of Whiskey Club. After signing up for either one, you get two full-sized bottles every quarter, each of which is of the finest quality that the company can offer.
The American Whiskey Club selection is quite impressive in itself. Still, we found the World of Whiskey Club lineup especially intriguing, with offerings from Scotland, Ireland, Japan, and other prominent whiskey producing countries from around the world.
Like the best clubs, you get loads of value with every order. Caskers throws in tasting cards and curator notes, along with a detailed history of your whiskey and cocktail recipe suggestions. Best of all, Caskers doesn't give you the same whiskey twice, so you always have something new and exciting to look forward to.
Pros
Domestic (American) and international options available
Competitive prices
Lets you purchase individual full-sized bottles from the website
Rare whiskeys available
You can cancel or pause your subscription anytime
Free shipping
Cons
Only two full-sized bottles available per quarter
No returns unless the bottle is damaged
Awesome
Place here Description for your reviewbox
If you like surprises, Tasters Club is the ideal spirit subscription service for you. Apart from whiskeys, the site also offers subscriptions for bourbon, scotch, and plenty of other liquors. Members receive a 750ml bottle every, along with distillery and tasting notes and an extensive history of the particular spirit you are receiving.
The beauty of a Tasters Club membership is that you don't get any indication of what particular bottle you are getting in the mail. This can be tricky as you would be stuck with a full bottle if you don't particularly care for your 'surprise'. The good news is that Tasters Club has a pretty wide selection of rare and premium distillates, so you can reasonably be assured of getting an excellent bottle.
Pros
Nine subscription clubs for different spirits
Fair prices
More shipping destinations than most other subscription clubs
Full-bar option
Lets you cancel, pause, or change your subscription anytime
Great customer service
Cons
Only one full-sized bottle per month available
No discounts for prepayments
Shipping is a bit expensive
No return policy
Awesome
Place here Description for your reviewbox
Any of the five sites covered above will undoubtedly fill your needs as far as whiskey of the month clubs go. But if you are looking for something a bit out of the ordinary, we feel that these two clubs, in particular, deserve special mention: Shots Box and Craft Whisky Club.
Shots Box is the one to go for if you have a taste for the rare and extraordinary. Although the site does have a good selection of familiar brands, they specialize in distillations that you won't find in typical liquor shops.
Shots Box's lineup reflects the company's goal of connecting you with brands you may not have considered trying before and encouraging you to experiment with more esoteric whiskeys.
Membership at Shots Box is $85 every two months. In return, you will receive ten 50ml bottles from which you can choose which full-sized bottle to order. The site also lets you sign up for a subscription in which you get three full-sized bottles.
Craft Whisky Club Review
Artisanal distillates is the hot new trend in the whiskey world, and there is no better site to get the lowdown than Craft Whisky Club. Depending on which subscription you sign up for, you will receive one or two full-size bottles of whiskey every two months.
As with Shots Box, Craft Whisky Club is a great way to check out spirits you may not be familiar with. You also get food pairing suggestions with each shipment, along with details about the distiller.
At $50 monthly for a bottle every two months or $90 monthly for two bottles every two months, membership at Craft Whisky Club is a bit pricey. Nevertheless, it's a fair deal for some truly excellent whiskeys that you won't find in your average liquor store. Shipping is included in the price, so it's still a pretty cost-effective way to get some fine artisanal products.
Why Shoud You Sign Up For A Whiskey Subscription?
There are many benefits to signing up for a whiskey subscription service instead of getting your whiskey from a liquor store or a bar. For one thing, you have access to premium quality spirits that you won't find anywhere else.
The best services have expertly curated selections that allow you to sample some truly fine whiskeys that would probably never register on your radar.
Many services also let you try out more than one whiskey at a time so that you can hone in on your preferences. This approach saves you the trouble of dealing with a full bottle of something that you don't particularly care for.
Admittedly membership at a whiskey club can be costly. The most exclusive clubs charge up to $170 per month, which is more than you would typically spend on your monthly spirit consumption.
That being said, some clubs offer memberships at only $25 per month, which is excellent value for what you get in return.
In any case, club membership usually gives you the chance to try out a good variety of whiskeys, some of which you wouldn't even consider buying. And you could get discounted rates on premium bottles as well, so the cost of membership may still end up being worth it.
Best Bourbon of the Month Clubs
Best Bourbon of the Month Clubs