User Posts:

Mike The Whisk(e)y Writer
If you are like me, you never really considered the calorie count of a shot of whiskey while sitting at the bar. Just keep 'em coming is the motto. But did ...
So if you are looking for the finer things to gift this year then this is the holiday guide for you. I've sourced some pretty unique gift items that you ...
Disclaimer: Making whisky at home is illegal in all 50 USA states. This post just goes over the process on how to make your own whisky but we are not ...
Whiskey is a spirit that lends itself exceptionally well to mixing. A common ingredient in many popular cocktails, this well-loved amber beverage always ...
Heaven Hill's Elijah Craig Barrel Proof is pretty hard to come by, but it is still one of the most sought-after small-batch whiskeys on the market. For ...
Bourbon occupies a special place in the whiskey hierarchy, revered by the most discriminating drinkers. Hugely popular all over the world, it stands proudly ...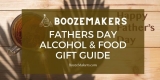 It's 2021 and Fathers Day is around the corner. So we have compiled a list of alcohol and dad fun gift ideas that you can give to your father this year. ...
Unless you are a dedicated whiskey drinker, you might think that bourbon and whiskey are pretty much the same. After all, both spirits share the same deep, ...
 First thing first — it is important to note that brewing distilled spirits including bourbon or any other type of whiskey, vodka, gin is illegal and ...
Have you ever thought about starting your own whiskey collection? It's not as outlandish an idea as you might think. If you are an experienced whiskey drinker ...
Browsing All Comments By:

Mike The Whisk(e)y Writer