User Posts:

Mike The Whisk(e)y Writer
Bourbon occupies a special place in the whiskey hierarchy, revered by the most discriminating drinkers. Hugely popular all over the world, it stands proudly ...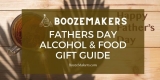 It's 2021 and Fathers Day is around the corner. So we have compiled a list of alcohol and dad fun gift ideas that you can give to your father this year. ...
Unless you are a dedicated whiskey drinker, you might think that bourbon and whiskey are pretty much the same. After all, both spirits share the same deep, ...
 First thing first — it is important to note that brewing distilled spirits including bourbon or any other type of whiskey, vodka, gin is illegal and ...
Have you ever thought about starting your own whiskey collection? It's not as outlandish an idea as you might think. If you are an experienced whiskey drinker ...
Pulling out a shotski at a wedding or party is for sure an instant hit. You may have seen these and even participated with 3 others to down a shot of bourbon, ...
Editor choice
With so many different distilleries and products out there, it can be difficult for an avowed whiskey drinker to take it all in. If you are not up to ...
Get Compass Box No Name Sent Directly To Your Door This is by far the peatiest blend ever produced by Compass Box. The intriguingly-named 'No Name' should ...
Even though it is technically a condensation and not a distillation process, the term freeze distillation has caught on with hobby distillers around the ...
Get Angel's Envy Straight Bourbon Sent Directly To Your Door Kentucky is known for many things: Muhammad Ali, the Kentucky Derby, bluegrass music, KFC, the ...
Browsing All Comments By:

Mike The Whisk(e)y Writer