Check out Whisky and Bourbon From Around The World With a SipScout Subscription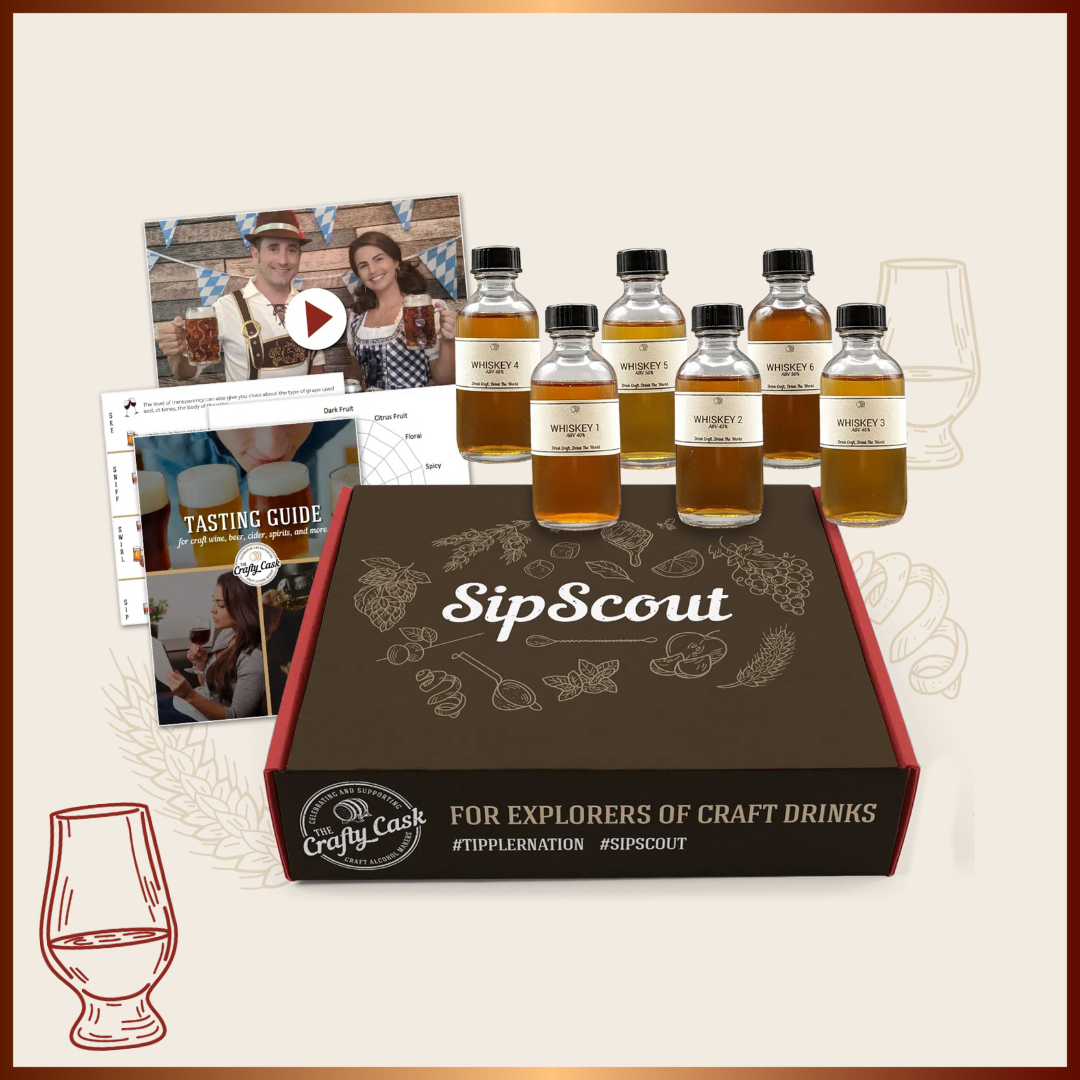 Get Angel's Envy Straight Bourbon Sent Directly To Your Door
Kentucky is known for many things: Muhammad Ali, the Kentucky Derby, bluegrass music, KFC, the Louisville Slugger. All these come together to make for a truly remarkable and captivating state. But Kentucky is known for one other thing, which is the subject of this review: bourbon.
In this particular review, we set our sights on Angel's Envy Straight Bourbon, a delicious straight bourbon bottled by Louisville Distilling Company. A proud Kentucky bourbon in every sense of the word, it made its debut in 2011 when it immediately made a strong impression with whiskey enthusiasts all over the United States. Soon after its release, Angel's Envy took its place among the most revered Kentucky bourbons in the country.
Of course, that was then, and this is now, and 2011 was a long way off. Many fine bourbons have made their mark since then, and Angel's Envy isn't exactly the young and fiery upstart anymore.
Which begs the question: Does Angel's Envy still have what it takes to measure up to current offerings? Is it still the envy of distillers everywhere? Read on to find out.
Angel's Envy Info

Location: Louisville, Kentucky
Composition: Corn (72%), rye (18%), malted barley (10%)
Proof: 86.6
Alcohol by volume (ABV): 43.3%
Dominant flavors: Vanilla, oak, port
Age: Four to six years, plus an additional three to six months
Recommended servings: shots, straight, on the rocks, cocktails
Angel's Envy sets itself apart from other bourbons with its double-maturation process. It is aged in new charred American oak barrels and casks that previously held port. Like all fine bourbons, it is best drunk straight up, although it makes a fine addition to a wide variety of cocktails as well.
Nose
Angel's Envy has a beguiling nose consisting of marvelous gingerbread, maple sugar, and molasses tones. Almost candy or cookie-like in character, it has just the right degree of burn when sniffed. Angel's Envy smells so good that we were almost tempted to have it for dessert! This is truly one of the most delicious and inviting bourbons in its price range.
Palate
The palate has a super sweet character that comes as no surprise, given the rich nose. The maple sugar candy tone is still present here, along with enticing gingerbread and molasses flavors. Toward the end of your sip, you will pick up some surprising cotton candy flavors and more than a hint of marshmallow.
Some may find the flavor palette of Angel's Envy to be excessively sweet. However, we feel that the added layer of flavor imparted by the rum casks prevents the sweetness from becoming too overbearing.
Angel's Envy also has a hint of rye spiciness, but not as much as you would expect from bourbon with a rye mash bill of 95%. This isn't a criticism, mind you. In fact, the tempered rye flavor makes Angel's Envy easier to drink than it would otherwise.
Finish
Unsurprisingly, Angel's Envy has a lingering sugary sweet finish. While a hint of burnt maple sugar and molasses make their appearance initially, they soon give way to the sweet flavors that dominate the palette throughout.
Angel's Envy does have a noticeably long finish. In fact, it has one of the longest finishes we've ever come across in a whiskey. This isn't necessarily a bad thing, but it is worth noting if you're accustomed to bourbons that fade away fairly quickly.
Rating: 4.5/5 stars
Ultimately, Angel's Envy gives off the impression of a delicious and well-balanced bourbon from beginning to end. The complex and almost fruity nose gives way to even more complex flavors, with a rich and heady sophistication that you would only expect from much pricier offerings.
We also have to mention the rich mouthfeel with its captivating array of vanilla, chocolate, and maple flavors underpinned by the oaky tones of good whisky. If you haven't guessed yet, we thoroughly enjoyed the rich flavors and sensations that Angel's Envy provides.
How Angel's Envy Bourbon is made
Angel's Envy is made from a mash bill consisting of corn (72%), rye (18%), and malted barley (10%). It uses only locally-sourced, non-GMO grains, with the original expression aged for four to six years.
American white oak barrels are used during the initial aging process. Afterward, the whisky is aged a further three to six months in barrels that previously held ruby port wine.
Angel's Envy isn't manufactured according to a strict schedule or production process. Instead, each batch is allowed to mature as needed to produce the optimum smell and flavor characteristics. At critical points during the aging process, the distiller samples the whisky and decides if it is ready for bottling.
How to enjoy Angel's Envy
Angel's Envy isn't what you would call "budget" bourbon, although it isn't exorbitantly priced either. Even though the Port Cask comes in at an attractive price point, it is still a premium whiskey deserving of more reverential settings.
Like all good whiskies, Angel's Envy is best enjoyed straight. You could also pour a shot over a single large chunk of ice and let it rest for a couple of minutes. This opens up the palette and unlocks all the wonderful aromas and flavors described above.
If you opt to include Angel's Envy in a cocktail, remember not to dilute it too heavily or overpower it with strongly-flavored ingredients. We've found that classic recipes work best, especially those with only a few elements that complement and enhance the bourbon rather than mask its rich flavors.
Get Angels Envy in a Bourbon of the month club here.
Get Angel's Envy Straight Bourbon Sent Directly To Your Door
Angel's Envy Bourbon Review
At around $45 a bottle, this is a bourbon that hits all the right notes for a casual sipper. Next time you're at a bar or liquor store this is a good one to try.