Weller's Special Reserve is part of Buffalo Trace's line of wheated bourbons, which includes Weller Antique 107, Weller 12 Year, Weller Single Barrel, and ...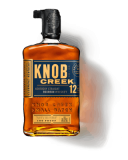 Classification: Straight Bourbon Company: Beam Suntory Distillery: Jim Beam Release Date: Ongoing Proof: 100 Age: 12 Years Mashbill: 75% Corn, 13% Rye, ...
I first heard of Pinhook bourbon from one of my local Facebook groups.  A member gave us the lead on bottles that he found in a local liquor store.  He ...