Check out Whisky and Bourbon From Around The World With a SipScout Subscription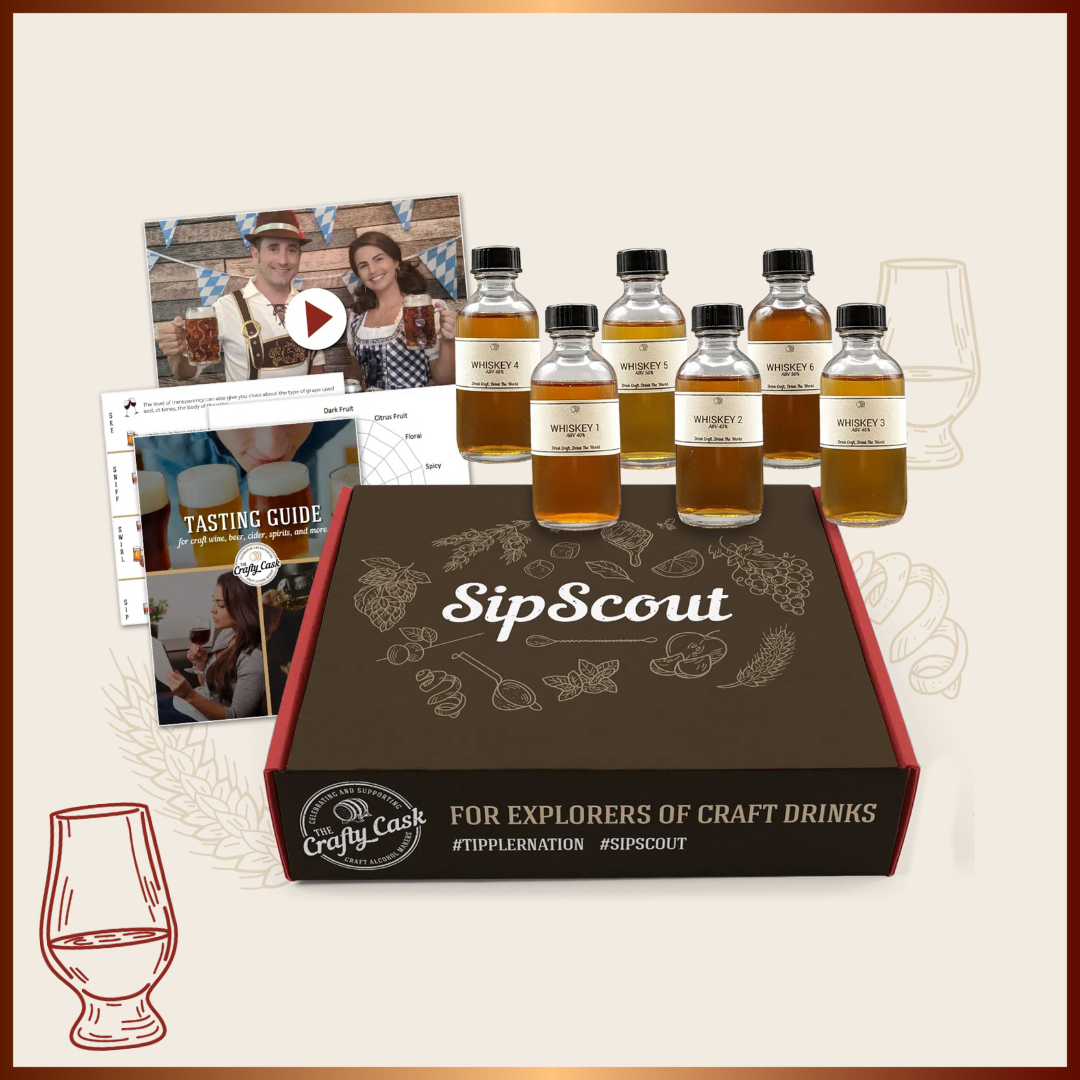 It seems there's no end to the creativity and genius of craft beer brewers! From unique flavor twists and variations to one-of-a-kind packaging, the brewing world is rife with inventiveness and innovation at every turn. 
This ingenuity extends to the naming of brews, with convention all but thrown out the window. It seems that every week, manufacturers are scrambling to come up with increasingly funny, clever, and downright outrageous names for their products. 
As a nod to these visionaries, we're currently putting together a list of the funniest and most outlandish beer names ever committed to a label. We've already come up with several certified gems, and the list just keeps growing! 
That being said, we could always use a few more! If you know of a hilarious, unique, or otherwise noteworthy beer name, please feel free to send it our way. You could send us a can or bottle of the brew in question, a t-shirt or other merchandise with the name prominently displayed, or even just mention it in an email. We'll be happy to add it to our list!j
But first, here is our BoozeMakers Top 10 favorite craft beer name winners of 2021:
---
Bring Out Your Dead IPA from Black Plague Brewing
Buzz Lightbeer (American Cream Ale) from Center Street Brewing Company
Circum Session Ale from Shmaltz Brewing Co.
Cinco De Bayou from Bayou Teche Brewing
Cinna-Mom on French Toast — Formerly known as Your Mom on French Toast  from Pigeon Hill Brewing Co. (Muskegon)
Citra Ass Down from Against The Grain Brewery
Citrus Got Real (Tart Ale) from Springdale Barrel Room
Cheers from Old Cottage Brewing Company (permanently closed)
Complicated Passwords from Hop Dogma Brewing Company
Czech Your Head from Proper Brewing Company
Dan's Pink Shirt from Short's Brewing Company
Dark Side Schwarzbier from Something Brewing
Dates Sugar Yeast Magik from Pipeworks Brewing Company
Dead Guy Ale from Rogue Ales
Deer Abbey from Black Tooth Brewing Co. 
Do It To It Gruit from The Bruery
Don't Wait In Line For This from Central Coast Brewing
Dunkel Breakin' My Heart from Klaus Brewing Company
Drink Of Me Fondly from Hardywood Park Craft Brewery
Drop it like it's hop! From Derby Brewing Company
Dry Humpkin from Cigar City Brewing
Dubhe from Uinta Brewing Company
Duck Duck Gooze from The Lost Abbey
Elvis Crack from Fetch Brewing Co.
Enter the Bru-Tang Tangerine Session IPA from The Tap Brewing
Everything Louder Than Everything Else from Witch's Hat Brewing Co.
Extrabeerestrial ESB from Loowit Brewing
Fat Neck IPA from Green Duck Beer Co
Fermentation Without Representation from Epic Brewing Company
Funky Jewbelation from Shmaltz Brewing Company
Fraggle Bock (Doppelbock) from Portsmouth Brewery
Frost Hammer from Great Baraboo Brewing Co.
For Richer Or Porter from Tibbs Brewing Co (Permanently closed)
For Those About to Bock from Hopworks Urban Brewery
For Whom The Belge Tolls from Franklin's Restaurant & Brewery
Fucking Hell from Brauhaus Hartmannsdorf
Galaxy Far, Far A Haze from Ol' Republic Brewery
Geriatric Hipster Club from The Bruery
Get Down American Brown from BrewCult
Gin and Beer It from Lincoln Green Brewery
Gandhi-Bot from New England Brewing Co.
Good Chit Pilsner from Chatoe Rogue
Goser the Gosarian from Dogfish Head
Gourd of the Rings from Cambridge Brewing Company
Grand Pappy's Sugar Shack from Harpoon Brewery
Happy Ending Beer from Sweet Water Brewing Co.
Hauling Oats from Tenaya Creek Brewery
Haulin' Oats Stout from O'Connor Brewing Co.
Havana Affair from Stonecloud Brewing
Hazed and Confused from Sleepwalker Spirits and Ales (Lansing)
He Ain't Heffe from Straight to Ale
He'Brew from Schmaltz Brewing Co.
Hibernation Ale from Great Divide Brewing Co.
Hop Zombie from Epic Beer
Hoppy Ending Pale Ale from Palo Alto Brewing Co.
Hoppyright Infringement from NOLA Brewing
Hoptimus Prime from Ruckus Brewing Company
Hoptimystic from Hemlock Brewery
Human Blockhead from Shmaltz Brewing
I Wanna Dance Wit Somebody from Fort Rock Brewing
Ill Tempered Gnome from Oakshire brewery
I'll Be Bock from CORE Brewing Co.
I'll Have What The Gentleman On The Floor Is Having from McGuire's Irish Pub And Brewery
I'm So Freaking Hoppy from Arrowhead Brewing
Imperial Stout Trooper from New England Brewing Co.
Joe Mama's Amber Lager from Stewbum & Stonewall Brewing Company
Joint Effort from Redhook and Hilliard's, brewed
Joy Rye'd from Historic Brewing Company
Juice on the Loose from Phantom Carriage Brewery
Juicebox Hero from Greenbush Brewing Co. (Sawyer)
Junk in the Truck from Pizza Port
Kilt Lifter from Moylan's Brewery
Kiss the Goat from Gigantic Brewing
Lacto The Future from Revolution Brewing
Lawyers, Guns & Money from Crazy Mountain Brewing Company
Leafer Madness from Beer Valley Brewing Company
Leder-Bro-Sen from Barn Town Brewing
Lemur Alone from Yolo Brewing (Permanently closed)
Lil' Helper from Mother's Brewing Company
Little Sumpin' Sumpin' from Lagunitas Brewing Co.
London Cow-ling from Remedy Brewing Company
Love Pump from Livery Brew (Benton Harbor)
Love Thy Neighbeer from Blue Blood Brewing Company (Permanently closed)
Mash of the Titans from Odell Brewing Company
Men in Bock from Odell
Mistletoe Bliss from Lazy Boy Brewing
MmmHops (Pale Ale) from Hanson Brothers Beer Company
Modus Hoperandi from Ska
Monty Python's Holy (Gr)Ail" from Black Sheep Brewery
Moose Drool from Big Sky Brewing Co.
Mrs. Stoutfire from Cool Springs Brewery
My Wife's Bitter from Burleigh Brewing Co.
Naughty Nellie from Pike Brewing
Nerd Fury from Big Lake Brewing Co. (Holland)
New Kids on the Bock (Maibock) from Percival Brewing Company
Nibbed for Her Pleasure from Northville Winery and Brewing Co. (Northville)
Nipple Mountain from Pagosa Brewing Company
No Brakes IPA from Fixed Wheel Brewery
No Escape from Blackhole Brewery
Old Birdbrain Barleywine from Black Raven Brewing
Old Leghumper from Thirsty Dog Brewing Company
Orange Yuzu Glad I Said Porter from Mikkeller
Out to Pasteur from Augustino Brewing
Palate Wrecker from Green Flash Brewing
Pancakes 'n' Hotpants from Olde Peninsula Brewpub
Pandora's Bock from Elysian Brewing Company
Panty Peeler from Midnight Sun Brewing Co.
Parking Violation from Russian River Brewing Co.
Pathological Lager from Dock Street Brewing Co.
Petal to the Fleur from Low Tide Brewing
Peter Piper Pepper Pale from Rockford Brewing Co.
Pickleodeon from Foolproof Brewing
Pigs Ass Porter from Harvest Moon Brewing
Pink Boots Made for Hoppin' Hazy DIPA! from Loomis Basin Brewing
Plaid to the Bone from Picaroons Traditional Ales
Polygamy Porter from Wasatch Brewery
Pollock Rip from Devil's Purse Brewing Company
Pork Slap from Butternuts Beer & Ale
Pour Decisions from Upstate Brewing Company
Pour Timing from Fargo Brewing Company
Pro-Zach from Bike Dog Brewing
Punk'in Drublic from Coronado Brewing Company
Puppers Beer series from Bone Up Brewing
Questionable Advice from Council Brewing Company
Ratsalad from 2nd Shift
Random Name Generator from Tiny Rebel
Release the Quacken from Dancing Duck Brewery
Respect Your Elderberries from Allagash Brewing Company
Ride It Like You Stole It from Fixed Wheel Brewery
Ryan and the Gosling from Evil Twin
Rye2D2 from Sactown Union Brewery
Sac Fly-PA from Knee Deep Brewing
Santa's Butt Porter from Ridgeway Brewing
Sex Panther from SanTan Brewing Co.
Sexual Chocolate Imperial Stout from Foothills Brewing
Sextacula from Elsyian
Shipfaced from Silver Harbor Brewing
Should I Stay or Should I Gose from Slowboat Brewing Co.
Sir Veza from Old Hangtown Beer Works (closed)
Skullsplitter from Orkney Brewery
Sky Hag IPA from Airways Brewing
Smells Like a Safety Meeting from Dark Horse Brewing
Smooth Hoperator from Stoudts Brewing Company
Spruce Willis from Dogfish Head Brewery
Son of a Berserker! From Midnight Sun
St. Patrick Hayze from Atlanta Brewing Company
Stop, Collaborate, & Glisten from NODA Brewing Company
Stop, Hop and Roll from Fegley's Bethlehem Brew Works
Struggle Bus from Bagby Beer Company
Stupid Sexy Flanders from Sun King Brewing
Stupid Sexy Flanders from American Brewing
Suuuuuper Fly from 51 North Brewing Company (Lake Orion) (Permanently closed)
Sweet Child of Vine from Fulton Brewing
Tactical Nuclear Penguin from BrewDog
Tamarind Diaz from Canton Brew Works (Canton)
Tang (C.R.E.A.M. Ale) from Sebago Brewing Company
Tart Side of the Moon from Brewery Vivant
The Great, Big Kentucky Sausage Fest from Amager Bryghus and Against the Grain Brewery
The Seamstress Union from Schooner Exact Brewin
There's No Rye-Ing in Basebull from Bolero Snort Brewery
Things We Don't Say from Wandering Soul Beer Company
Trade Bait from Burgeon Beer Company
Traffic Street Specials #8 Guns of Navarone from Castle Rock Brewery
Train Fight from Tapistry Brewing Co. (Bridgman)
Tripel Bypass from from Raised Grain Brewing Company
Trump Hands from Cannonball Creek Brewing Co.
Toques of Hazard from Parallel 49 
Turn Your Head and Coffee from Smug Brewing
Up All Nitro from Backshore Brewing Company
Village Idiot from White Horse Brewery
Waddle it be? From Dancing Duck Brewery
Waka Waka from Gravel Bottom Craft Brewery and Supply (Ada)
Way Up Yer Kilt Scottish Ale from Granite City Food and Brewery (Troy)
We Are Brut from Mraz Brewing
Weapon of Mash Destruction from Main & Six Brewing Company
Weiss & Virtue from 2nd Shift Brewing
Welcome to Worcester from Wormtown Brewery
We're Gonna Need a Bigger Cucumber from Columbia Craft Brewing
We're Only In It For the Money from Lagunitas
What She Says Gose from Oak Park Brewing
What The Huck from the Fernie Brewing Co.
Wheat the Pearents from Brewery Ferment aka CraftHouse TC
Whitney Brewston from Fort Rock Brewing
Whiskey Dick from Oskar Blues
Whole Lotta Amarillo from Smuttynose Brewing Company
Why Can't IBU? From Stillwater Artisanal
Woo-Tang IPA From Flying Dreams Brewing Co.
Vampire Blood from Sprecher Brewing Co.
Vergina from Macedonian Thrace Brewery
Yeastus Christ from To Øl
Yellow Snow IPA from Rogue Ales and Spirits
Your Best Hoption from Chestnut Brew Works
Your Mom on French Toast from Pigeon Hill Brewing Co. (Muskegon)
You're My Boy, Blue from Brew Bus Brewing
Zangeif's Bearhug from Short's Brewing Co. (Bellaire)
Zero to Sexy  from Figueroa Mountain Brewing Company
Zonker Stout from Snake River Brewing
Zwickel Me Timbers from New Glory Craft Brewery
004 Oaks from Brewhouse and Kitchen
4 Hopmen of the Apocalypse from Totally Brewed
99 Red Baboons and BG Sips from Blue Monkey
668: The Neighbor of the Beast from New England Brewing Company
Sources and other lists to check out: