Welcome to the epitome of finesse and elegance with BoozeMakers.com's Gentleman's Holiday Gift Guide - your passport to a curated world where ...
It's time for another edition of our Father's Day Gift Guide. If you are looking for the extra cool thing for Dad this year, look at our list of 42 items that ...
What are the main ingredients in a Bourbon Stardust Soiree?A Bourbon Stardust Soiree is a delightful cocktail that features bourbon, elderflower liqueur, ...
 Black Dog is a premium whisky brand from India that is widely available in Delhi. It is known for its smooth taste and is a popular choice among whisky ...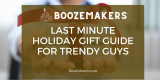 If you are running of out ideas or are looking for inspiration for some cool gift to get the groovy guys in your life, then look no further. Here is a list of ...
If you are still looking for the finer things to get your father this Father's Day then you are in the right place. We have sourced some of the finer things ...
What happened? Did you party with friends, drank wine, got drunk, and blacked out? I know that happens a lot! That's exactly why it's always best to know how ...
Different strokes for different folks. Some drink their whiskey straight or neat—others like it with a dash of water. There really is no right or wrong way ...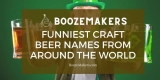 It seems there's no end to the creativity and genius of craft beer brewers! From unique flavor twists and variations to one-of-a-kind packaging, the brewing ...
Some call it the true American Spirit, an authentic representation of tradition and an honest product of good old-fashioned hard work. Known simply as ...
Browsing All Comments By:

Booze Makers