Welcome to our 1st Build Your Home Bar Gift Guide where we will go over a bunch of stuff that you can use to build out or pimp out your home bar. Please use ...
  This page provides a comprehensive overview of home distilling laws by state in the U.S. Furthermore, we a giving a quick overlook at home distilling laws ...
Whiskey drinkers know that chocolate and whiskey flavors go amazingly well together. Like bread and butter, peanut butter and jelly, and milk and cookies, ...
Have you ever seen a bottle of bourbon with a horse on its top and wondered what it was? Chances are, what you saw was an intriguing and highly-collectible ...
Extract brewing is the middle ground for home brewers, providing more control than the kit and kilo method over the final outcome. It has the advantage of ...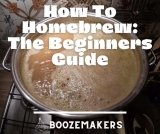 When you first look into home-brewing, you may be confused about where to start – that's why this startup guide has been made. Feel free to bookmark this ...
There has been a lot of attention circulating about homebrewing wine and how beneficial it can be to your wallet as well as your health. However, not a lot ...
Whilst they may not be the most fun part of homebrewing, cleaning and sanitizing are THE single most important two steps of the entire brewing process - ...
Glenlivet Founder's Reserve made its debut in 2014, replacing the venerable Glenlivet 12 year old, the distillery's previous entry-level offering. With ...
Year: 20 Batch: o/r Bottle: 6226 750ml 46% alc/vol Whole Grain Mash and Non-Chill Filtered. Distilled and manufactured by: Tuthilltown Spirits, ...
Browsing All Comments By:

Booze Makers